Health Data Intelligence Ltd. came to us looking for a complete redesign of their website in order to attract more online users. They wanted the information provided to look more attractive and encapsulating to interest more customers. They also wanted their site to have a fresh, modern feel to it, as well as for the site to convey as much information as possible to the customer. Finally, they wanted us to stick to a fairly basic structure only displaying the necessary content with no unnecessary animations/effects etc.
After reviewing these requirements and taking them into consideration we ere able to create a completely redesigned website for the Health Data Intelligence Ltd. company. The site uses a modern, interesting image slider in order to grab the customers attention, the slider also includes links to ensure that the customer can navigate to the specific piece of information that they require. The site also helps to advertise the products that they offer online and provide the customer with the right amount of detail surrounding these products, making the site informative and easily navigatable.
Health Data Intelligence have informed us that they are extremely happy with their new site as it has been a huge success. The site has helped generate business, as well as increasing customer awareness about what it is that the company do, and the products that they supply. It has also helped the company image, as the website makes the company look more modern and up to date, increasing their business and status online.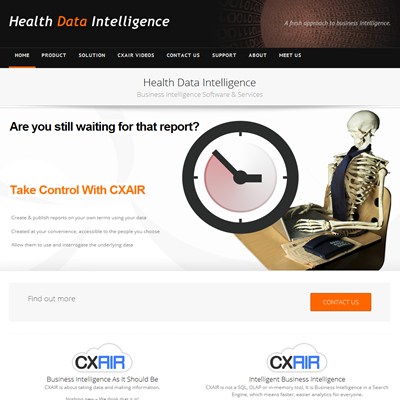 Visit Health Data Intelligence Ltd. here