Beware of fake antivirus software
November 15, 2010
It seems that a quarter of web users have been targeted by criminal gangs into purchasing fake antivirus software. These gangs have amassed an army of individuals that call unsuspecting users and trick them into installing a piece of rouge software to remove a virus that doesn't really exist.
These gangs:
Mislead you into paying for fake software (known as Rouge AV) that does nothing
Steal personal information including credit card details
Take control of your computer to use it for other illegal activities
This issue was raised back in March but has certainly gathered pace with gangs shelling out as much as £95,000 a month for paid advertising.
Get Safe Online Week
This report coincides with "Get Safe Online Week" starting today, the 15th November. Run by a government-sponsored group whose aim is to "encourage everyone to take some time out of their week to learn more about internet safety and to make sure that their computer is properly protected."
How can I make protect myself against a fake antivirus?
This is not easy given the sophistication around these types of attack. The best approach is to familiarise yourself with your Antivirus software. If you do not have any Antirus softaware there are many free versions available to home users including AVG Free, Avira AntiVir Personal and Avast.
You can check the type of message you'd expect to see by downloading the EICAR Test Virus. This is a simple harmless file that every Antivirus vendor is aware of.
When downloading this from my Computer using AntiVir I get the following warning message.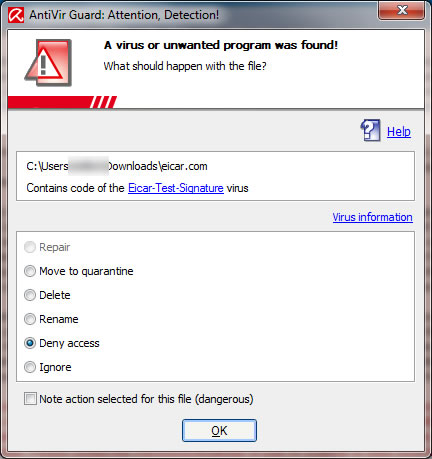 I now know that any popups from a website hosting any rouge software is going to be fake if the message does not look like this.
So:
Be well aware of any popups warning you of suspect viruses.
Make sure you have up to date Antivirus
Ignore any phone call from software vendors offering to fix your PC over the phone.