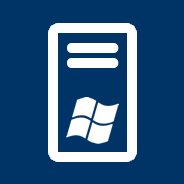 Microsoft Windows Server Support
Managing your companies server as well as trying to manage the company can prove to be very tasking, so why not let us take the responsibilities of maintaining the server and allow yourself to focus on developing your business.
We provide constant monitoring of your server, to ensure that all services are running as they should be, and to ensure that the system is healthy with no virus/malware infections. You will also receive various email updates that will let you know information such as, your server has successfully retrieved the latest updates, and your data has been successfully backed up.
By allowing us to take responsibility of your companies server we will help to keep your system in a constant working state, allowing you to focus solely on improving your company. We also take a proactive approach in order to eliminate any minor problems before they escalate and cause any serious problems.