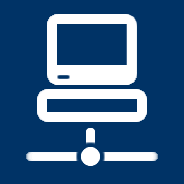 Networking
Are you looking to expand your company further, and possibly branch out with a new site?  Are you simply looking to replace your existing network with a better system? Or is your network encountering problems & under-performing? If so N2N solutions can help.
New Site
If your company is looking to expand by moving to a second site then we offer our help in many ways to make the transition a lot easier for you. We evaluate the new site, and weigh up the various different options that are currently available when implementing a new network, and we work with you in order to choose the solution that you think will work best. This evaluation includes a list of what we believe to be the most effective networking structures for you to implement, a price quote for each one (to enable you to choose the one that is within your ideal budget) and also the pros and cons of each structure. We aim to make it as easy as possible for you to choose the network structure that is best suited to you and your companies demands.
Existing Site
If you are encountering network issues on your existing network then we also help to provide solutions to solve this. We use a network diagnostics tool in order to check connectivity to the network and this helps us to identify the problem. We then implement the necessary solution in order to repair your companies network. However, if you are looking to upgrade your current network to a completely brand new set up then this is not a problem. We evaluate your current site taking all things in to consideration eg. budget, time it will take to implement, and with this information we offer you the best solution to suit your companies needs.