Media Centres and Home Cinema
Media Centres represent the growing trend in home entertainment because they bring your entire digital life into a central and easily accessible device, right in the heart of your living room.  You can play media stored in any location, your Home PC for instance, and watch it on your television or home cinema.
Watch Movies and Video – Watch all your favourite DVDs or HD movies without the need to swap disks because you have your entire movie collection available instantly.
Listen to Music – Catalogue your MP3 collection and CDs so you can listen to any artist, album or genre.  You can also take advantage of the thousands of free internet radio stations.
Browse Photo Albums – All you photographs do not need to stay hidden on your PC.  Enjoy your memories popping up while you listen to music or simply view them together as a group.
Record and Watch Television  – Watch television when you want to as it is possible to record and watch up to 16 channels from terrestrial, cable, satellite and even high-definition sources.  You can also enjoy your TV on the move because unlike some Satellite recording systems you can copy the programme onto your laptop and enjoy it on the move.
Enjoy Internet Content  – You can now easily watch a range of internet content including, YouTube, iPlayer, Justin.TV, Google videos, Shoutcast and so much more.
Backup and Store files  – If your media centre has internal or attached storage you can save all you important files from your computer so if you Laptop or PC gets stolen or damaged all your files are safe.
Share your Media – With all your digital media stored in a central location, ii is easy to share with everyone. So your recorded TV, Films, music and pictures can be enjoyed anywhere.
we can transform your viewing experience.
We can supply and install a wide range of Media Centres for every level so, working within you budget, we can transform your viewing experience.
How much does a Media Centre cost?
The price of a Media Centre is largely determined by the features you require; this includes:
Flexibility – gives you the ability to change how you view your libraries on screen and how you interact with them.
Media Sources– allows you to configure and connect to various sources to access music, video and pictures.
Capacity – relates to how much media you can store on the device.
Connectivity – to your television or audio system.
Definition – of video and/or audio to your television and audio system.
With this in mind we offer a number of solutions to cover your budget.  From entry level Media Centres to high end all-in-one solutions or off-the-shelf to custom built.
The Cost
Our prices start from as little as £69.99 but call us for free advice or take advantage of our special offer where you can trial a demo unit for 7 days..
Our solutions are tailored to your requirements so we can ensure that you get the exact system you need and are nothing less than satisfied. That way we guarantee that you have all the cables and accessories you need to be up and running.
Why would I want a Media Centre?
The are many advantage to having a Media Centre.
Less Equipment – You no longer need Digital set-top-box (Freeview), Blu Ray player, VHS video recorder, DVD recorder, Hard disk recorder (Sky+, V+ box), Hi-Fi system (amplifier, speakers, cd recorder, tuner, MP3 jukebox), PC/web/email equipment, Digital photo frames.
Easy Access – no need to manually search your CD or DVD collections.  Just browse on screen.
One Remote – only one remote control is necessary for all devices because remote controls for the other devices are no longer needed.
Less Power – with only one device replacing many others you save money because of the reduced power consumption.
Fewer Cables – saving money on costly cables as all the functionality of many devices are built into a single unit.  This also simplifies the connections to the television
But most importantly…it just looks good!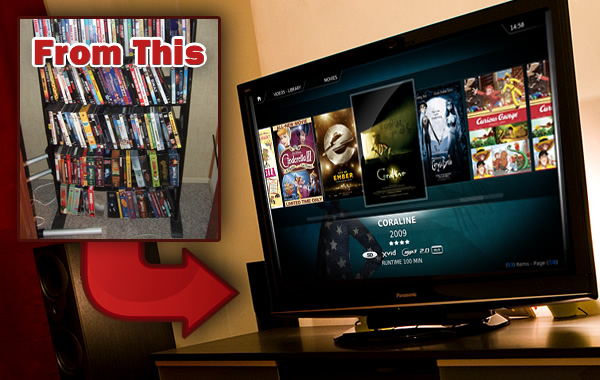 How does it connect to my Television?
There is a lot of choice when connecting a Media Centre to the television but we can help you choose the best combination of Video and Audio.
Nowadays, with High Definition televisions being the standard, it make sense to get the best from your Media Center by using HDMI (High Definition Multimedia Interface) but if that option is not available there are plenty of other ways you can get a great picture on your television.
Video
There are a variety methods to connect your Media Centre each one with a different picture quality.  Starting with the best:
HDMI – HDMI stands for High Definition Multimedia Interface and at present gives the best connection of all. It was designed to be backward compatible with DVI and has the advantage of being able to carry digital audio and video all in one lead.
DVI – DVI stands for Digital Video Interface and these cables are designed to create a digital to digital connection between a video or data source and a screen giving superior picture quality over VGA.
VGA – VGA stands for Video Graphics Array.  This cable has 15 pins is is uses an normal RGB signal.  They are most commonly used to connect PCs to Monitors.
Component – Component leads split the signal into three colour components which are Red, Green and Blue giving a superior picture over both composite and S-Video. The signal itself is referred to in different ways, as Y, Cr, Cb or Y, Pb, Pr and RGB (Red Green and Blue).
S-Video – An S-Video plug is a round plug with four round metal pins and one rectangular plastic one.  It differs from a composite cables because the video signal is split into two distinct components (luminance and chrominance).
Composite AV (Phono) – Phono leads have round plugs and are made up of three leads that split the entire video signal down one lead and the stereo sound down the other two (left and right) .
Audio
The right audio connection depends mainly on your specific set up.  If you do not have a home cinema with surround speakers then there is no need to use an expensive audio connection.
However, if you do have a home cinema, we can select the best method for you to connect your Media Center.  The main options are:
HDMI – HDMI stands for High Definition Multimedia Interface and has the advantage of being able to carry digital audio as well as the video all in one lead.  This can be connected directly to the television or via an AV receiver.  If the connection is via an AV receiver then you have the ability to swtich to other high definition sources such as games consoles.
Digital Audio – These come in two types of connection, coaxial (a round socket) or optical (toslink) and are capable of sending multiple audio channels over one cable. The can support AC3, Dolby Digital and SPDIF (Sony/Philips Digital Interconnect Format).
5.1 (6.1, 7.1) Analogue Audio – This uses individual cables for each audio channel but can still provide excellent sound quality even if you don't have a high definition picture.
Stereo Analogue Audio – This is the simplest form of audio connection and is still probably the best option if you do not have a Home Cinema or AV Receiver.
With a combination of the right audio and video connections, your Media Centre can easily link into your Home Cinema/  AV Receiver.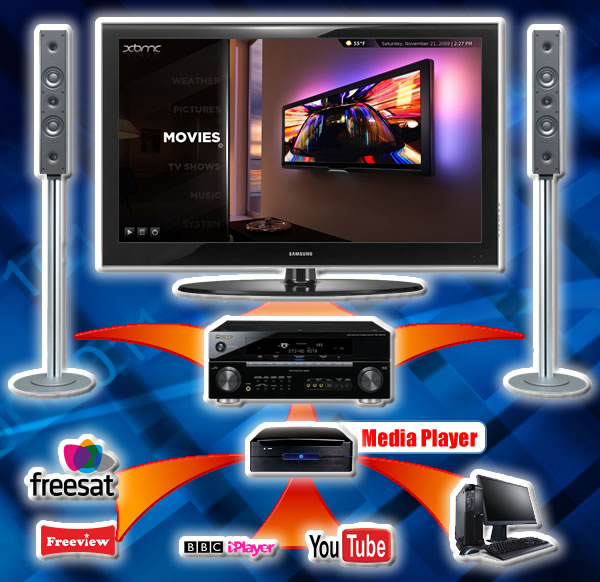 So whether you decide to watch recorded television, films stored on your computer or the vast array of media on the internet, we can provide a Media Centre to meet your exact needs.
How easy are they to operate?
Media Centres have been designed to provide the user with a simple and easy way to browse and watch any type of digital media. They provide the fun and convenience of the internet from the comfort of your armchair – no need to plug your PC into the television any more.
Only one remote control
With a single remote control you can navigate around a simple and intuitive menu system to access all your media.  No need for multiple remote controllers for your DVD player, music system, Personal Video Recorder or TV as one controller replaces them all.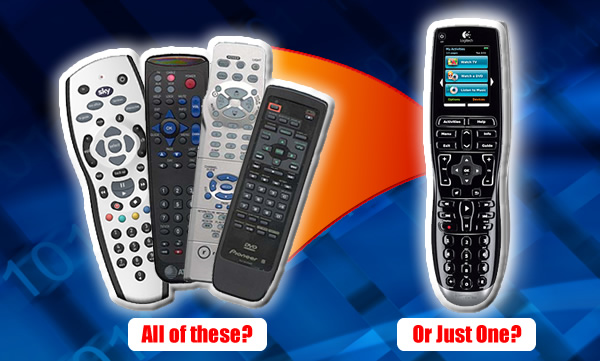 You also have a choice for a traditional remote, a wireless keyboard or a full touch remote.