DLNA, the best new technology you've probably never heard of
September 16, 2010
The Digital Living Network Alliance (DLNA) is an organisation that comprises of 250 or so different companies whose primary goal is to make it easier for consumers to use, share and enjoy their digital photos, music and videos.
As a consumer, digital media is more prevalent than ever before. Much of our music, photos and videos are stored and enjoyed in various formats on our computers. But the problem has always been how to share this across different devices. If you want to listen to music away from your PC it has to be copied onto an external MP3 player, like an iPod. Or photos need to copied onto and external memory card to be enjoyed in a digital photo frame.
This is where DLNA comes in. It is a set of rules that have been agreed between all members of the alliance that allow different devices to share digital media. DLNA is not a physical product, like a plug or cable, but is a technology that it built into the respective devices.
What does DLNA do?
Put simply, DLNA is a technology that lets you connect all your digital media in a simple and easy way.
DLNA is going to have the biggest impact in the lounge. Many of us have nice large flat screens but only really watch television or DVDs on them. A device with DLNA built-in can communicate with another DLNA device and immediately share photos, music or videos.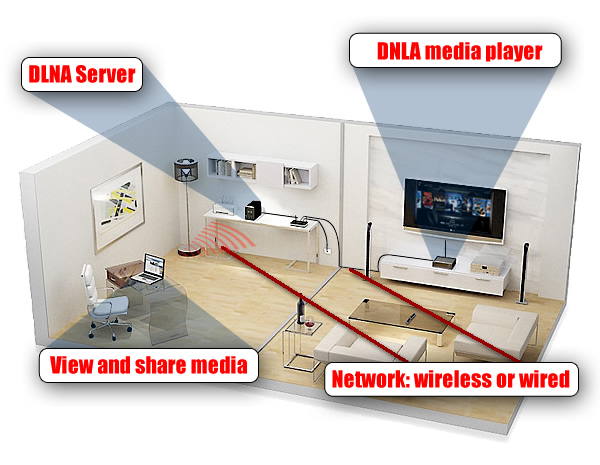 For example, you have been out for the day and taken a lot of photos. With DNLA you would simply plug the camera into the PC as normal, switch the TV on and then the entire family can enjoy a widescreen slideshow in comfort. Without DLNA you would either have to crowd round the PC or go to the effort of plugging a computer into the TV.
What do I need?
There are three main components required to use DLNA.
A Home Network – wired or wireless, this is to allow the various DLNA devices to discover and communicate with each other. Many homes with broadband already have a wireless router acting as the home network.
A DLNA Certified Media Server – this device hosts and shares the media. Windows Media Player has DLNA built-in so when configured to share will act as a media server. Some newer BluRay players can act as a DLNA server so it is possible to watch a BluRay film on another TV from a central player.>
A DLNA Certified Media Player – DLNA is already available in many devices including TVs, mobile phones, Network Storage Servers, Audio Systems but not restricted to this list.
Many newer televisions now have DLNA built in but if yours does not you can simply buy a media player and connect it to the TV. The Western Digital Live TV is an excellent example of an entry level Hi-Definition media player.
Is it really that easy?
Yes and No. In essence DLNA is a set of standards to allow devices to talk to each other and share media and whilst many television manufactures now build this in some only support certain types of media. For instance, certain devices will only play back MP3 music files and not other types of music file. Others will only play specific video files, like DVD, but not other formats like Apple QuickTime (MOV) files. This is where a dedicated media player has the advantage because they are designed to play many more types of media.
DLNA is really set to take off and interestingly LG Electronics have committed to building their next generation of NetCastTM with Plex built-in, a fully fledged Media Player supporting a vast range of media formats. So if you are looking to get a new television, check for the DLNA Certification.